The Butthole Surfers; "Lets Go to Hell" tells the story that was thought would never be told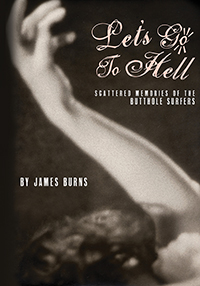 The Butthole Surfers remain one of the most enigmatic bands in the history of rock music. Most of their records have no information of any kind, and often with the suggestion that you play them at 69 rpm…. They lived like nomads through much of the 1980s, and built their reputation upon tours that never ended, and shows that resembled hedonistic acid tests. They left a heap of former band members in their wake, and have often alienated as many fans as they've attracted. Here for the first time is the complete story of one of the most controversial and dangerous bands to have emerged from the ashes of the punk rock movement.
Let's Go to Hell compiles the scattered memories into the first comprehensive overview of the band. Featuring exclusive interviews, tons of rare and unpublished photographs, and analysis of the band's vast recorded (and unrecorded) efforts, Let's Go to Hell finally tells the story that was thought (and often hoped) would never be told.
Author James Burns lives in Saugerties, NY with his wife and four children. He founded Cheap Drugs Records in 2000. Let's Go to Hell is the 9th release of the label, and first book to bear the Cheap Drugs name… James been running the Butthole Surfers Anal Obsession archive for more years than he wants to admit.
SPREAD THE NEWS!
Related
Comments
comments
Christian Hamilton
Christian is the founder and Editor of Rock Paper Rock as well as a freelance concert and event photographer serving the Pacific Northwest and Beyond. He is a certified member of the PPA and Gold Level member of the CPS. He has recently began working with Mental Itch Records and has launched his own Photography website.
---
---
Related Articles
TEXAS HIPPIE COALITION  Dark Side of Black Release Date set for April 22nd. After reaching a new level of recognition with
SKATERS GET READY TO HEAD OUT ON NATIONWIDE TOUR WITH THE ORWELLS
An Evening With Alice Cooper on November 23, 2014