ROCKLAHOMA 2017 BAND LINEUP ANNOUNCED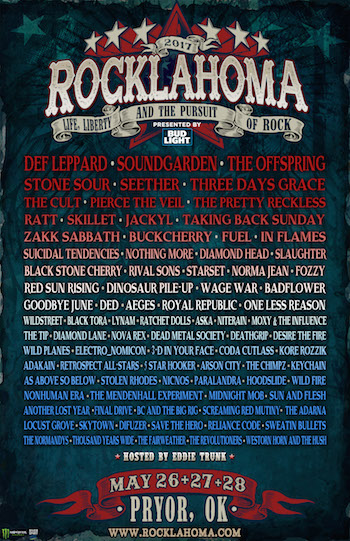 A massive music lineup has been announced for the 11th year of Rocklahoma, presented by Bud Light, May 26, 27 & 28, 2017 at "Catch the Fever" Festival Grounds in Pryor, Oklahoma, just outside Tulsa. Soundgarden, Def Leppard, and The Offspring lead the music lineup for America's Biggest Memorial Day Weekend Party, which features the best current rock artists and classic bands. The three-day camping festival features music on three stages, as well as a campground stage to keep the music going all night long. With onsite camping amenities and unparalleled VIP packages, Rocklahoma lives up to its motto of "Life, Liberty & the Pursuit of Rock." In 2016, Rocklahoma had its biggest year ever, with over 70,000 fans attending the festival's 10th year.
The current Rocklahoma band lineup is as follows: Soundgarden, Def Leppard, The Offspring, Stone Sour, Seether, Three Days Grace, The Cult, Skillet, Ratt (featuring Stephen Pearcy, Warren DeMartini, Juan Croucier and Carlos Cavazo), Jackyl, The Pretty Reckless, Pierce The Veil, Taking Back Sunday, Suicidal Tendencies, Nothing More, Buckcherry, Zakk Sabbath, Diamond Head, Fuel, Black Stone Cherry, Rival Sons, In Flames, Slaughter, Starset, Norma Jean, Fozzy, Red Sun Rising, Dinosaur Pile-Up, Wage War, Badflower, Goodbye June, DED, Royal Republic, Aeges, One Less Reason, Wildstreet, Black Tora, Lynam, Ratchet Dolls, ASKA, Moxy & The Influence, Niterain, The Tip, Diamond Lane, Nova Rex, Dead Metal Society, Deathgrip, Desire The Fire, Wild Planes, Electro_Nomicon, 3-D In Your Face, Coda Cutlass, Kore Rozzik, Retrospect All-Stars, Adakain, 5 Star Hooker, Arson City, The Chimpz, As Above So Below, Keychain, Stolen Rhodes, Nicnos, Paralandra, Hoodslide, NonHuman Era, The Mendenhall Experiment, Midnight Mob, Another Lost Year, Wild Fire, Final Drive, Sun and Flesh, BC and the Big Rig, Screaming Red Mutiny, The Adarna, Locust Grove, Skytown, Difuzer, Save the Hero, Reliance Code, Sweatin Bullets, The Normandys, Thousand Years Wide, The Fairweather, The Revolutioners and Weston Horn and the Hush.
"Every year we try to find that delicate balance of talent at Rocklahoma, and the lineup we've put together for 2017 will not disappoint," commented Joe Litvag, executive producer of Rocklahoma. "Def Leppard has been on the wish list of our most loyal fans since the festival was created back in 2007, and to couple them, one of the most influential British rock bands of the last 30+ years, with Soundgarden, one of the most respected American rock bands of our generation, is really special for us. Add to the mix some of the hottest developing talent like Pierce The Veil, The Pretty Reckless, Nothing More, and Rival Sons, and I think we've accomplished the goal of achieving one of the most diverse festival lineups of the year anywhere. It's going to be a really memorable weekend!"
Festival goers looking for an expanded festival experience are invited to purchase special Weekend River Spirit Casino VIP Packages. Full details for the River Spirit Casino Groupie Package, Roadie Package and Rockstar Packagescan be found at www.Rocklahoma.com. All Weekend VIP Packages include access to exclusive backstage bar(s), pit, upper deck viewing platforms, on-site concierge, and more.
SPREAD THE NEWS!
Related
Comments
comments
Christian Hamilton
Christian is the founder and Editor of Rock Paper Rock as well as a freelance concert and event photographer serving the Pacific Northwest and Beyond. He is a certified member of the PPA and Gold Level member of the CPS. He has recently began working with Mental Itch Records and has launched his own Photography website.
---
---
Related Articles
Music News: Daily Music Roundup featuring Foo Fighters, Faith no More, Q5 and More
Mom's Rocket Take off with Z Records
When you're a natural nice guy, people around you pick at you with so much with bulls–t that you start getting tired.