Amon Amarth and drummer Fredrik Andersson have decided to part ways after 17 years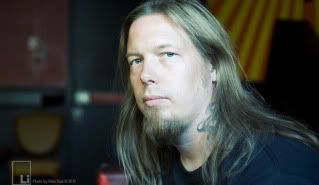 After 17 years of playing music together Swedish death metallers AMON AMARTH have parted ways with drummer Fredrik Andersson. The band had this to say about the split in a statement on social media earlier today:
"Amon Amarth and drummer Fredrik Andersson have decided to part ways after 17 years. Fredrik has been an important part of Amon Amarth's development since he joined the band in 1998 and we wish him all the best for the future. We are currently in the process of writing the new album, but at the moment there is no replacement for him."
Amon Amarth didn't really get into much of the details behind the split so Andersson cleared it all up.. maybe as he released his own statement saying in part:
"I am no longer the drummer in AMON AMARTH. We have decided to part ways and I wish them all the best in the future. I will not answer any questions about why or how, simply because it's private. I'm finalizing the last details with the new THIS ENDING CD, and we will look into releasing that somehow during this year. Stay tuned. I will also evaluate any future opportunities. I want to thank everyone that I've met, both fans and business related, through AMON AMARTH. It's been my pleasure. It's been a long sweet ride but now it's time for something new."
SPREAD THE NEWS!
Related
Comments
comments
Christian Hamilton
Christian is the founder and Editor of Rock Paper Rock as well as a freelance concert and event photographer serving the Pacific Northwest and Beyond. He is a certified member of the PPA and Gold Level member of the CPS. He has recently began working with Mental Itch Records and has launched his own Photography website.
---
---
Related Articles
CANNIBAL CORPSE AND BEHEMOTH CONFIRM CO-HEADLINE WINTER TOUR 2015!
theSHIFT Premiere Korba: SET TO RELEASE 7TH DIRECTION EP APRIL 14
Fusion Guitarist ANDY WOOD Joins SHIPROCKED 2015 – Sailing from Miami to Great Stirrup Cay in the Bahamas