Chickenfoot set to release "Divine Termination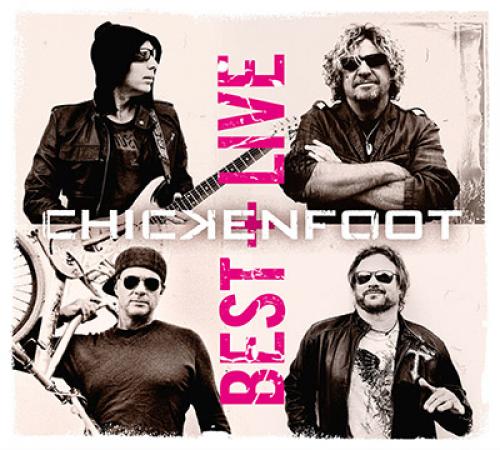 Supergroup Chickenfoot will release "Divine Termination," its first new tune in 5 years on BEST + LIVE, the group's first ever best of collection, on March 10, 2017.  Chickenfoot features front man Sammy Hagar, guitar god Joe Satriani, bassist Michael Anthony (Van Halen), and drummer Chad Smith (Red Hot Chili Peppers)
In addition to "Divine Termination," BEST + LIVE includes over 90 minutes of live music – for the first time released on CD.  Sammy Hagar says, ""Listening to this collection of songs from the 'Foot brings back memories of some of the most fun I've ever had in a band. The chemistry between Chad, Joe, Mike and me is very special. It's almost like visual music — you can see us having fun when you listen to these songs.""
In May 2016, Chickenfoot reunited for two highly-anticipated one-time shows at Harrah's Lake Tahoe, and played their first complete set in more than six years, along with a special unveiling of the new tune "Divine Termination."  Joe Satriani describes the track as "bone crunching, hell raising rock, dripping with attitude and vibe. Just the way Chickenfoot likes it!"
Both the extra CD "LIVE" and the bonus tracks on the best of feature a 13 song strong set list including almost every song from Chickenfoot's debut album as well as Sammy Hagar's old Montrose classic "Bad Motor Scooter," The Who's "My Generation" and Joe Satriani's interpretation of "The Star Spangled Banner" – all recorded live in Phoenix 2009 and available for the first time on CD (previously only available as video on the DVD/Blu-ray "Get Your Buzz On.
The group's last album, Chickenfoot III, debuted at #9 on the Billboard 200 when it was released in 2011.
Tracklist "BEST+LIVE"
CD1 – BEST OF
01. Divine Termination (BRAND NEW SONG)
02. Soap On A Rope
03. Sexy Little Thing
04. Oh Yeah
05. Get It Up
06. Future In The Past
07. Big Foot
08. Different Devil
09. Lighten Up
10. Dubai Blues
11. Something Going Wrong
Bonus LIVE TRACKS:
12. Highway Star
13. Bad Motor Scooter
14. My Generation
CD2 – LIVE
01. Avenida Revolution
02. Sexy Little Thing
03. Soap On A Rope
04. My Kinda Girl
05. Down The Drain
06. Bitten By The Wolf
07. Oh Yeah
08. Learning To Fall
09. Get It Up
10. Turnin' Left
11. Future In The Past
SPREAD THE NEWS!
Related
Comments
comments
Christian Hamilton
Christian is the founder and Editor of Rock Paper Rock as well as a freelance concert and event photographer serving the Pacific Northwest and Beyond. He is a certified member of the PPA and Gold Level member of the CPS. He has recently began working with Mental Itch Records and has launched his own Photography website.
---
---
Related Articles
Multi-platinum-selling band TRAIN is set to pay homage to one of their biggest musical inspirations with the first cover album
"Modern metal is alive and well with DEAD LABEL." – Joel McIver, Author / Editor at Bass Guitar Magazine
Cult indie favorites Kind of Like Spitting will be touring with Bob Nanna's The City On Film and Lee Corey