MONSTER ENERGY WELCOME TO ROCKVILLE DAILY BAND LINEUPS
MONSTER ENERGY WELCOME TO ROCKVILLE
DAILY BAND LINEUPS
AND ONSITE EXPERIENCES ANNOUNCED; OF MICE & MEN ADDED TO LINEUP
The daily band lineups—including the addition of Of Mice & Men—and a variety of onsite festival experiences have been announced for the 7th annual Monster Energy Welcome To Rockville, Saturday, April 29 and Sunday, April 30, 2017 at Jacksonville, Florida's scenic Metropolitan Park along the St. Johns River. Rock legends Soundgarden, Def Leppard, and A Perfect Circlelead the music lineup for Florida's biggest rock experience, which features over 40 bands on three stages, including a tremendous list of talent with The Offspring, Mastodon, Chevelle, Seether, Papa Roach and many more.
Monster Energy Welcome To Rockville kicks off the annual World's Loudest Month festival series and, in addition to the incredible music lineup, will feature a variety of unique entertainment offerings including Monster Energy Experience, the Jack Daniel's Experience, The Music Experience, FYE Fan Experience, Caduceus Cellars & Merkin Vineyards Wine Garden, along with incredible food and beverage offerings and other onsite experiences.
Maynard James Keenan of A Perfect Circle, who owns Caduceus Cellars & Merkin Vineyards, said, "We're looking forward to being a part of a positive 2017 and seeing 2016 in our rearview mirrors. Bringing A Perfect Circle and the Caduceus Cellars & Merkin Vineyards Wine Garden to Welcome To Rockville is the first of many steps we plan on taking towards that goal. A thank you to Danny Wimmer Presents for this opportunity to co-headline with Soundgarden. We're off to a great start."
The daily band lineup (subject to change) for Monster Energy Welcome To Rockville is as follows:
Saturday, April 29
Soundgarden, A Perfect Circle, The Offspring, Mastodon, Coheed and Cambria, The Pretty Reckless, Pierce The Veil, In Flames, Highly Suspect, Of Mice & Men, Eagles of Death Metal, All That Remains, Starset, Dinosaur Pile-Up, I Prevail, Crobot, Volumes, As Lions, Frank Carter & The Rattlesnakes, Badflower, Goodbye June, The Charm The Fury
Sunday, April 30
Def Leppard, Chevelle, Papa Roach, Alter Bridge, Seether, Three Days Grace, Amon Amarth, In This Moment, The Dillinger Escape Plan, Gojira, Motionless In White, Nothing More, Rival Sons, Beartooth, Every Time I Die, Attila, KYNG, Sylar, Fire From The Gods, Cover Your Tracks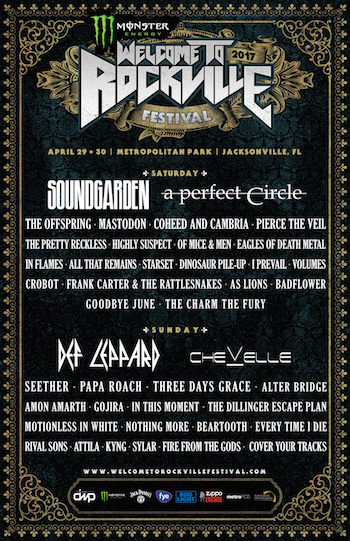 SPREAD THE NEWS!
Related
Comments
comments
Christian Hamilton
Christian is the founder and Editor of Rock Paper Rock as well as a freelance concert and event photographer serving the Pacific Northwest and Beyond. He is a certified member of the PPA and Gold Level member of the CPS. He has recently began working with Mental Itch Records and has launched his own Photography website.
---
---
Related Articles
The 4th Annual JOURNEYS ALTERNATIVE PRESS MUSIC AWARDS, FUELED BY MONSTER ENERGY Announce Black Veil Brides Frontman, Solo Alt-Pop Artist
13th ANNUAL "FLIGHT TO MARS" BENEFIT
FEATURING PEARL JAM'S MIKE McCREADY
FRIDAY, MAY 1st & SATURDAY, MAY 2nd AT THE SHOWBOX
CHILD BITE: Punk/Metal Marauders Premiere New Canticle Via Invisible Oranges; Strange Waste EP Release Day Draws Near