RANCID AND DROPKICK MURPHYS FROM BOSTON TO BERKELEY TOUR
RANCID AND DROPKICK MURPHYS
ANNOUNCE 
FROM BOSTON TO BERKELEY TOUR


KICKING OFF JULY 27 IN BANGOR, ME
AND WRAPPING AUGUST 26 IN SOUTHERN CALIFORNIA

Rancid and Dropkick Murphys have announced the co-headlining From Boston To Berkeley Tour, kicking off July 27 in Bangor, ME and wrapping August 26 in Southern California. The initial tour dates, cities and venues are listed below, with additional details to be announced in the coming weeks. Each night will culminate with Rancid and Dropkick Murphys on stage together for a joint encore.

The Bouncing Souls and Jake Burns open the July 27 – August 9 shows and The Selecter and Kevin Seconds open from August 11 – 26. See the full list of tour dates below.

Rancid and Dropkick Murphys have a long and important history together. Back in 1997, Rancid's Lars Frederiksen came across a copy of Dropkick Murphys' original EP at a friend's house. He turned it over to his bandmate and Hellcat Records president Tim Armstrong, who quickly snatched up the band for his new label.
"Rancid is looking forward to hitting the road with our brothers the Dropkick Murphys," says Rancid's Tim Armstrong. "We will end the night with DKM and us playing songs together. Look out for The Bouncing Souls, The Selecter, Kevin Seconds and Jake Burns to be on certain shows. SEE YA IN THE PIT!"
The roots of Rancid are traceable back to Operation Ivy at 924 Gilman Street in Berkeley, CA. circa 1987. After Operation Ivy broke up, Tim Armstrong and Matt Freeman went on to form Rancid. In 1993, they signed with longtime producer, and label founder, Brett Gurewitz of Bad Religion and Epitaph Records, who would stay on with the band for the next 20 years as the band's producer. Rancid (Tim Armstrong, Lars Frederiksen, Matt Freeman, Branden Steineckert) has stayed independent. They have their own independent booking agent, they're on an independent record label, Hellcat/Epitaph, and they make their own t-shirts. 2017 will see the release of Rancid's ninth studio album.
Dropkick Murphys are touring in support of their 11 Short Stories Of Pain & Glory album, released through the band's own Born & Bred Records earlier this year. The album debuted at #8 on the Billboard Top 200 and was the #1 independently released album. There's a feeling of purpose throughout the album, influenced by the band's work with The Claddagh Fund, a charity the band established in 2009 to help support addiction recovery as well as children's and veterans' organizations.
Dropkick Murphys' Ken Casey comments, "This is a dream come true for Dropkick Murphys. Hopefully all the people coming to the shows will feel the same way. Rancid gave us our break — Tim signing us to his label, Lars producing our early albums…so much history and great memories. Now, literally sharing the stage together every night. This tour is going to destroy all others this summer!!!!"
The initial dates for the From Boston To Berkeley Tour are as follows:
7/27/17 Bangor, ME Darling's Waterfront Pavilion
7/28/17 Montreal, QC '77 (www.77Montreal.com)
7/29/17 Toronto, ON Echo Beach
7/30/17 Cleveland, OH Jacobs Pavilion at Nautica
7/31/17 Sterling Heights, MI Michigan Lottery Amphitheatre at Freedom Hill
8/2/17 Pittsburgh, PA Stage AE
8/3/17 Philadelphia, PA Festival Pier
8/4/17 Asbury Park, NJ Stone Pony Summer Stage
8/5/17 Boston / Brockton, MA Brockton Fairgrounds
8/6/17 Brooklyn, NY Ford Amphitheatre at Coney Island Boardwalk
8/8/17 Chicago, IL Huntington Bank Pavilion at Northerly Island
8/9/17 Milwaukee, WI BMO Harris Pavilion
8/11/17 Denver, CO Sculpture Park
8/12/17 Salt Lake City, UT Saltair
8/13/17 Nampa, ID Idaho Center Amphitheatre
8/15/17 Vancouver, BC UBC Thunderbird Arena
8/16/17 Seattle, WA WaMu Theater at Century Link Field Events Center
8/18/17 San Luis Obispo, CA Avila Beach
8/19/17 Sacramento, CA Memorial Auditorium
8/20/17 Berkeley, CA The Greek
8/22/17 Chandler, AZ Rawhide Event Center
8/24/17 San Diego, CA Petco Park In The Park
8/25/17 Las Vegas, NV Downtown Las Vegas Events Center
8/26/17 Los Angeles, CA TBA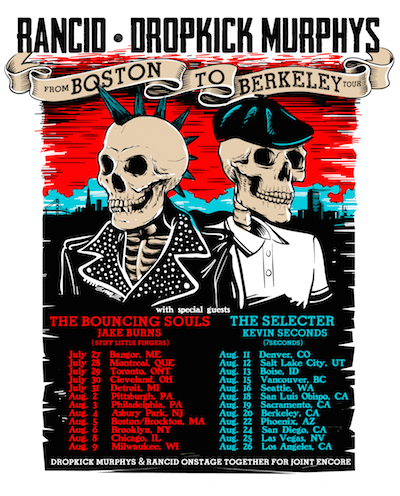 SPREAD THE NEWS!
Related
Comments
comments
Christian Hamilton
Christian is the founder and Editor of Rock Paper Rock as well as a freelance concert and event photographer serving the Pacific Northwest and Beyond. He is a certified member of the PPA and Gold Level member of the CPS. He has recently began working with Mental Itch Records and has launched his own Photography website.
---
---
Related Articles
Michael Wohl's west coast tour starts today in Weed California
2015 XG EXTREME GUITAR TOUR ROLLS ACROSS AMERICA: SCORPIONS, RAINBOW, BLACK SABBATH, DIO, JUDAS PRIEST, UFO AND MORE BOTH PAST AND PRESENT AND MORE PART OF TOURING PACKAGE
BUMBERSHOOT 2015 IS ON: One Reel Partners with AEG Live